Flat Roofing in Bristol
Jones Roofing & Building, operating in the Bristol area, is here to provide you with a cost-effective flat roofing solution which utilises modern roofing techniques to protect your home's roof from the elements.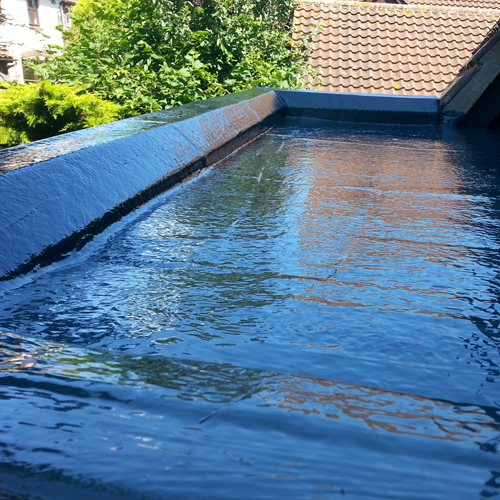 Flat roofing is renowned for its affordability and suitability for a number of constructions, including:
Porches
Extensions
Small buildings
Garages
Warehouses
Hospitals
Torch on felt roof, GRP and rubber
And many more
Rubber Flat Roofing in Bristol
Rubber roofing provides several advantages, and it can be a terrific investment for homeowners who have low-sloping roofs.
Not least among the benefits of this type of roofing is that it will offer much better protection, reducing and preventing water from entering and damaging areas of the home.
GRP Flat Roofing in Bristol
Some of the very first fibreglass roofs installed over 30 years ago still show no signs of degeneration. This material is UV radiation resistant, becomes lighter over time and also has fire resistant properties. GRP is manufactured to be capable of any building movement through expansion and/or contraction.
Made on site using polyester resin, glass fibre and rollers, GRP is a extremely effective product. This product is groundbreaking and has completely transformed the roofing industry throughout the UK.
Maintenance & Repairs to Flat Roofs in Bristol
Managing a flat roof is very simple – regular maintenance inspections is the key. As most traditionally flat roofing felts have a life-span of about twenty-five years, an annual checkup is the best way to prevent problems from developing. Even a relatively young roof can suffer from impact by debris in high winds or even damage from wind lift – particularly if you have a felt flat roof. By having everything regularly checked, you can prevent smaller problems from developing into larger issues.
Get in Touch for Your Flat Roofing Installation
The team at Jones Roofing & Building are time served and fully qualified with a wealth of experience installing all types of flat roofing in Bristol, so whatever you need, contact us and we'll get it done to a high standard at a competitive price. Feel free to browse our roofing services.